Training Courses | Machine Training Courses
Aerial platform training course in accordance with DGUV 308-008
Description and purpose of the training course
In order to work with a mobile elevating work platform, you must obviously be completely familiar with its functions and operation. Furthermore, it is important to be aware of possible risks and hazards. After this training course, you will know which tasks you can perform safely using mobile elevating work platforms and be capable of limiting the risks associated with these tasks to a minimum.
This training also contributes to increasing the efficiency and reducing the number of machine malfunctions, and improves the safety awareness of the participants.
Contents
The training course consists of a theoretical and practical part. You put the theoretical knowledge you learn into practice immediately. This gives the training course an interactive character.
The training course ends with a (practical) proficiency test. Our experienced and professional trainers make sure that you are well prepared for the proficiency test.
Remarks
The 'Mobile elevating work platform training course in accordance with Policy Document 308-008 of the German Statutory Accident Insurance Association' complies with the statutory provisions for operating mobile elevating work platforms in Germany. After completing the training course, you receive a credit card-sized proficiency certificate and certificate of participation, which you can present at the work site. These items are sent to you by post.
Many contracting authorities also require additional certification or training. Please reference the internationally recognised IPAF MEWP training courses for more details (these are suitable for both inexperienced and experienced participants!).
Contact directly
---
Would you also like to be accredited? Please get in touch with us.
Monday to Friday, 8 a.m. to 5 p.m.
Contact us
At your choice of location
Including proficiency test
Group courses or individual courses
Topics
Definition: Arbeitsbühnen, Modelle und Typen
Diverse Antriebsmotoren
Welche Typen werden für welche Arbeiten eingesetzt?
Gesetzliche Bestimmungen
Fahrzeuginspektion
Tägliche Wartung
Sicherheitsvorrichtungen
Maschinenspezifische Informationen
Praxisübungen auf einem festgelegten Parcours
Sign up now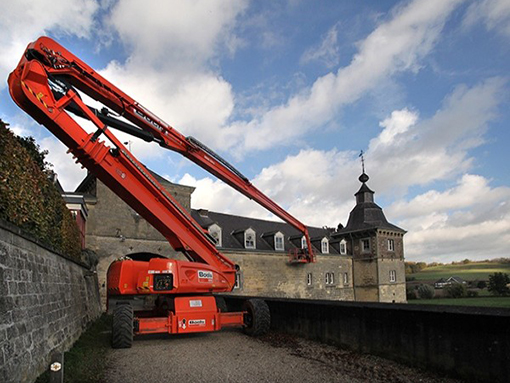 Practical information
Training venue:
- Group courses are provided at any location with an approved training room/area or at one of Boels' training centres.
- Individual registration (depending on availability).
Duration: 1 day - maximum 8 hours
Maximum group size: 8 participants
Conditions of participation: The participants must be at least 18 years old.
Certificates: In accordance with DGUV 308-008 guidelines.
Validity: Permanently (yearly training is mandatory)